If you thought EZdrummer 2 was mind blowing, wait until you get a load of Toontrack EZdrummer 3. The third time is definitely the charm: this virtual drum software takes the concept of "EZ" drum production to an entirely new level. Finding grooves is effortless with this virtual drum software, thanks to its gigantic, wide-ranging MIDI library. EZdrummer 3's browser has been given a significant makeover. For starters, its Tap2Find function has been fortified with a built-in step sequencer. You can also isolate specific elements from different grooves and combine them to create new ones. Creating custom-tailored grooves is a walk in the park with EZdrummer 3. Feed the virtual instrument an instrument track from your song, and its Bandmate feature will automatically generate a realistic drum performance that matches its feel and groove. EZdrummer 3 also makes editing grooves an effortless endeavor, thanks to overhauled Power Hand features, a turbocharged Grid Editor, and automatic humanization with varied articulations and more. And to top it off, EZD3 comes with a sound library of seven drum kits — plus extras — all captured at the legendary Hansa Tonstudio in Berlin, Germany, by Grammy-winning recording/mixing engineer Michael Ilbert. EZdrummer 3 also boasts a massive cache of mix-ready presets, along with a fully scalable and resizable graphical user interface.
Find grooves and build songs the EZ way
EZdrummer 3's MIDI library is vast, covering the full gamut of musical genres. Whether you're creating pop, rock, electronic, hip-hop, reggae, or something else entirely, EZD3 is ready and willing to accommodate you. This virtual drummer's acclaimed Tap2Find feature includes a step sequencer, enabling you to record groove mockups in seconds. You can single out parts from different grooves to instantly create new ones. The music makers here at Sweetwater are especially stoked about EZdrummer 3's Bandmate feature, which allows you to feed a single-instrument MIDI or audio track from your song to the software to create a custom groove. Beyond that, you'll find that EZD3 makes creating outlines for song parts fast and — well, easy.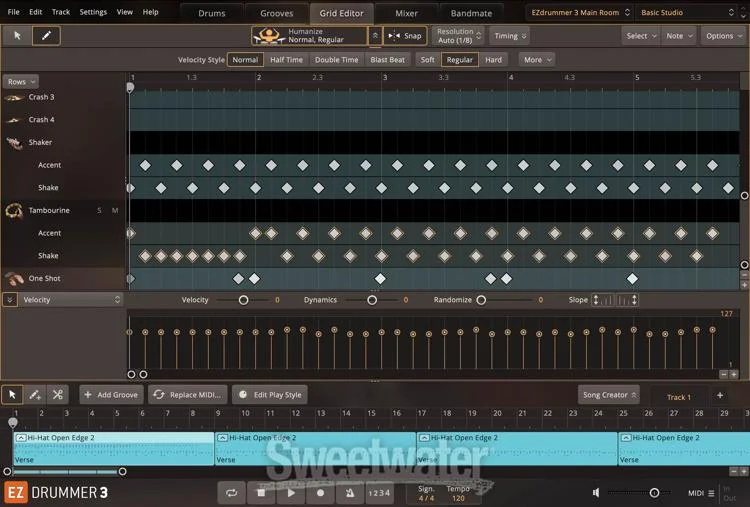 Take groove editing to a higher level
Editing your grooves in Toontrack EZdrummer 3 is extremely intuitive, Thanks to advanced play-style editing you don't even need to look at a grid. You can add complexity to ghost notes with a twist of the Amount editor, and you can deploy beefed-up Power Hand features to really nail the vibe you're aiming for. Cutting-edge humanization features provide automatic adjustment of velocity and micro-timing, while articulations are automatically varied to increase your groove's overall expression. Thanks to all these baked-in automatic features, talking to EZdrummer 3 is almost like talking to a human drummer.
Sounds from Hansa
A virtual drummer is only as good as its sound library, and EZdrummer 3 really pulls out all the stops. The core library contains seven gorgeous-sounding drum kits, along with a whole host of extras, captured by Grammy-winning recording/mixing engineer Michael Ilbert at the world-famous Hansa Studios in Berlin, Germany. You get three different rooms with three completely different vibes. The Bright Room with reflective marble walls; the Main Room with a spacious, yet not overpowering sound; and the Tight Room with a dry, transparent character. Best of all, this library was crafted especially for EZdrummer 3; it's not derived from the Rooms of Hansa SDX expansion.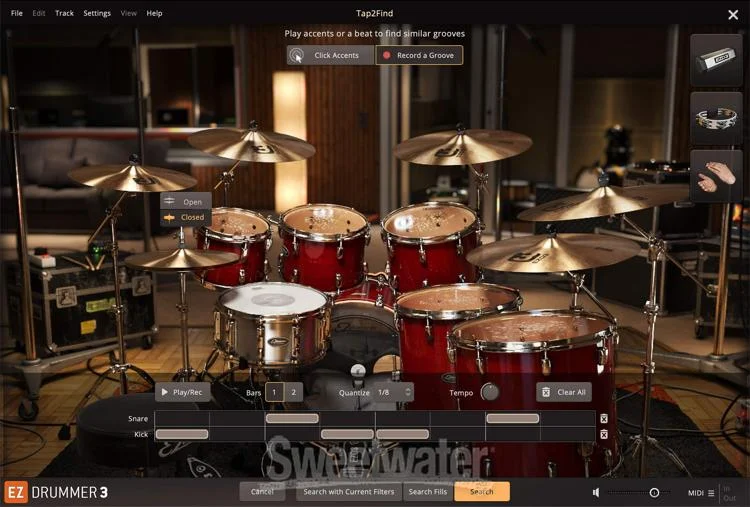 Toontrack EZdrummer 3 Virtual Drum Software Features:
Wide-ranging MIDI library covers the full gamut of musical genres
Tap2Find includes a step sequencer, enabling you to record groove mockups in seconds
Single out parts from different grooves to instantly create new ones
Bandmate converts a single-instrument MIDI or audio track from your song into a custom groove
Makes creating outlines for song parts fast and easy
Advanced play-style editing makes editing grooves seem effortless
Amount editor intuitively adds complexity to ghost notes
Beefed-up Power Hand features help you nail the vibe you're aiming for
Cutting-edge humanization features provide automatic velocity and micro-timing adjustment
Articulations are automatically varied to increase your groove's overall expression
Core library contains 7 gorgeous-sounding drum kits, along with a whole host of extras
All sounds were captured at Hansa Tonstudio by Grammy-winning recording/mixing engineer Michael Ilbert
Includes sounds from 3 different rooms with 3 completely different vibes
Permits preview of instruments and overhead channels directly from the mixer
Boasts a massive cache of mix-ready presets
Graphical user interface is fully scalable and resizable