Shape the Perfect Listening Experience
Our Product Research Team
iZotope Ozone 11 Advanced leverages state-of-the-art processing and cutting-edge AI-fueled workflows to unlock the full potential of your music. Its Clarity Module achieves a smooth, professional sound that maximizes loudness with zero unwanted sonic artifacts. Stem Focus enables you to process an isolated stem to fine-tune the balance of an already mixed song. Transient/Sustain and Upward Compress make reining in wayward dynamics a breeze with ultra-transparent results. Assistive Vocal Balance dials in your song's ever-important vocals. You also get Delta buttons in all of Ozone 11 Advanced's modules, allowing you to make subtle mastering moves with the utmost confidence. To top it off, Ozone 11 Advanced includes a retooled user interface and metering, which makes adjusting Low End Focus, Spectral Shaper, and Maximizer a piece of cake. Ozone 11 Advanced is iZotope's most comprehensive mastering tool kit yet, yielding release-ready enhancements guaranteed to elevate your productions.
Maximum loudness, zero penalties
Mastering is more than making a mix loud; it's more about making it sound good. That's where Ozone 11 Advanced's Clarity Module comes in. This cutting-edge process adaptively maximizes the spectral power of your music, so it sounds professional, polished, and loud without any sonic trade-offs. Here at Sweetwater, we've found that the Clarity Module really "pulls the blanket off" a dull mix, yet without even a trace of harshness.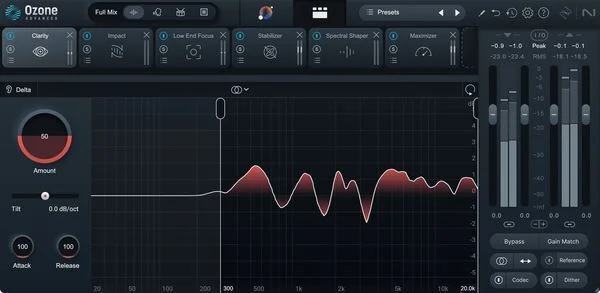 Skip time-intensive mix revisions
Mastering engineers often encounter out-of-whack mixes. In the past, this meant time-consuming mix revisions. But now, thanks to iZotope Ozone 11 Advanced's Stem Focus, you can rescue these problematic mixes — no mix revisions required. Stem Focus allows you to apply any Ozone Module to isolated stems to fine-tune the internal balance of an already mixed file.
Level up your music
Ozone 11 Advanced allows you to enhance your music's attack and sustain independently, giving you super-fine control over your mix's dynamic envelope. Moreover, Ozone 11 Advanced's Upward Compress enables you to boost quiet sections while preserving fast transients for some of the most transparent compression you'll find anywhere. You can easily increase density and detail with a single intuitive slider — no complex parallel routing, gain staging, or level-matching necessary.
iZotope Ozone 11 Advanced Mastering Software Suite Features:
Comprehensive mastering tool kit for achieving release-ready results
Leverages state-of-the-art processing and cutting-edge AI-fueled workflows
Clarity Module maximizes loudness with zero unwanted sonic artifacts
Stem Focus processes an isolated stem to fine-tune the balance of an already mixed song
Transient/Sustain gives you super-fine control over a mix's dynamic envelope
Upward Compress boosts quiet sections while preserving fast transients
Assistive Vocal Balance dials in a song's ever-important vocals
Delta buttons in all modules facilitate subtle mastering moves with the utmost confidence
Master Assistant is up to date with the latest trends in music
Retooled user interface and metering