Navigate the depths of your studio creativity with Guitar Rig 7 Pro from Native Instruments. Utilizing their impressive Intelligent Circuit Modelling (ICM) technology, Native Instruments gave the seventh iteration of Guitar Rig Pro four new and exciting amplifiers to work with, based off of legendary models of the past. Also new to Guitar Rig 7 Pro are a handful of effects and rack components, over 100 presets, a detailed looping station, and even the Cabinet Impulse Response Loader for enhancing the depth and definition of your favorite stacks. All of this allows you to easily fine-tune your signal flow and allow context to help guide you toward streamlined sessions and the development of your favored tone with absolute ease. Guitarists at Sweetwater are impressed by Guitar Rig 7 Pro's ability to cater to the functional needs of guitarists young and old, veteran and novice. Ditch the cost and clutter of temperamental hardware and open the door to Guitar Rig 7 Pro — a new, collective, and exciting digital guitar experience.
Vintage amp-centered additions
Software modeling in the guitar realm has never been so exhilarating, especially now that Guitar Rig 7 Pro packs in four new yet timelessly iconic amplifiers to play through. The first of the fresh batch is the Super Fast 100, supplying the shimmer and acidic crunch of the classic 100W British tube amp we all know and love. The Reverb Delight grants guitarists a dutifully dimensional tone straight out of the 1960s. Meanwhile, the 2-channel AC Box XV chimes with brilliant cleanliness and hand-wired tubey breakup of Liverpudlian fame. Finally, for the bass fanatics, the Bass Rage delivers some old-school and monstrous 300W tube-driven presence to anchor things on the low end. All this is provided through Native Instruments' astounding ICM technology that continues to push the boundaries of sonic modeling realism.
You've also got access to the all-new Cabinet Impulse Response Loader. Use this loader in conjunction with your preferred impulse responses (IR), and hear the presence of iconic cabinets of all sizes come to life right from your computer! Included in the factory library are incredible IRs designed by some of the best manufacturers around, including 3 Sigma Audio, Bogren Digital, cabIR, Kohle Audio Kult, and Lancaster Audio.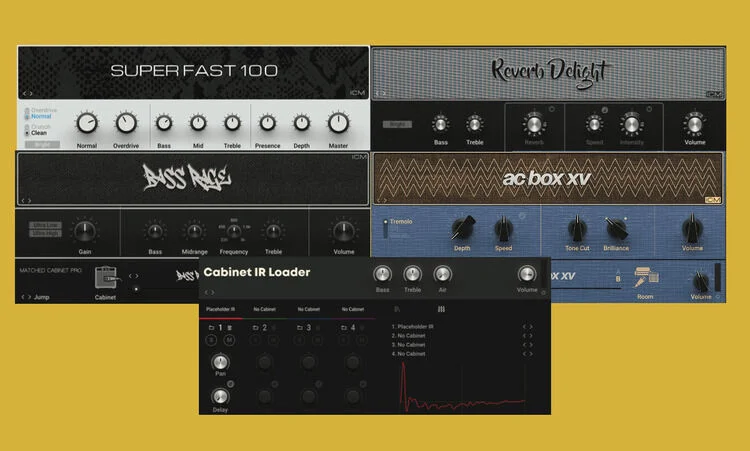 More rack-mounted mayhem
Guitar Rig 7 Pro also has cool paths for production, offering a host of new rack-mount effects and presets to help present your sound exactly on your terms. Noise Machine injects vinyl crackle and tape noise into your recordings for total lo-fi vibes. Implement the intensity of rock organ chorus with the Vintage Vibrato effect, or give your tracks a truly analog film by letting Tape Wobble supply a bit of magnetic imbalance. Explore a wealth of over 100 fresh presets that cater to your every sonic request, and even run iZotope's Ozone Maximizer for phenomenal dynamics control built right in.
Effect and loop like never before
Native Instruments' ICM engineering isn't finished yet. A handful of virtual effects pedals are brand-new to Guitar Rig 7 Pro and serve up some seriously cool tones to pique your creativity. Give your project a bit of hardware distortion and saturation with Kolor, or really layer on some grunge-era goodness with Seattle Fuzz. Maybe the origins of death metal are more your vibe, in which case Chainsaw is happy to oblige. Iconic high-gain distortion comes right to your digital doorstep in the form of the Skreamer Deluxe. At the same time, tamer options such as the IVP Stomp preamplifier enable subtly classic adjustments to bring out the very best of your tone.
Need a steady rhythm section to back your jams, practices, or brainstorming sessions? Guitar Rig 7 Pro's integrated Loop Machine Pro is here to help. A sure-fire assistant for promoting creativity, Loop Machine Pro is ready to keep the energy flowing while you make the magic happen. It's even a helpful tool for streamed performances, content creation, and more.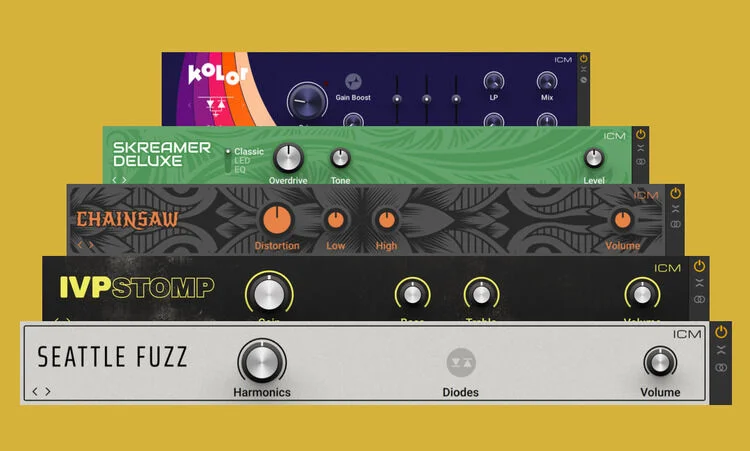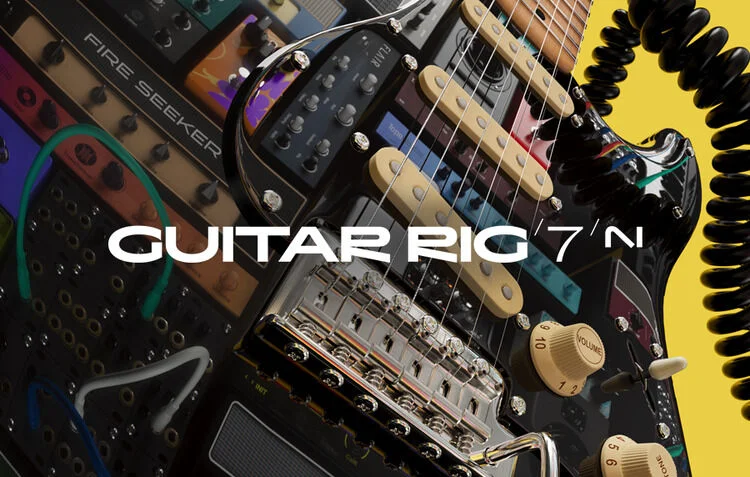 Native Instruments Guitar Rig 7 Pro Features:
Guitar and Bass modeling studio fueled by NI's Intelligent Circuit Modelling (ICM)
4x new timeless amplifiers, including Super Fast 100, Reverb Delight, AC Box XV, and Bass Rage
Cabinet Impulse Response Loader enables interactive replication of your favorite stacks via IRs
4x new rack-mount effects, including Noise Machine, Vintage Vibrato, Tape Wobble, and Ozone Maximizer
100+ new presets provide an enormous palate for creative potential
5x new effects pedals, including Kolor, Seattle Fuzz, Chainsaw, Skreamer Deluxe, and IVP Stomp preamp
Onboard Loop Machine Pro helps energize jams, practices, brainstorms, streams, and more