Keyscape – Definitive Collector Keyboards
Wouldn't it be great to have instant access to a definitive virtual library of killer keyboards? Spectrasonics Keyscape Collector Keyboards fortifies your arsenal with an exhaustive collection covering everything from your essential classics to jaw-dropping keyboards you never knew existed. Keyscape is an expressive, versatile collection of the rarest and most sought-after keyboard instruments ever made — some dating back over a century. Keyscape is powered by Spectrasonics' STEAM Engine and works in all major DAWs as a plug-in, but if you're an Omnisphere 2 user, you'll enjoy the bonus of full integration as a satellite instrument. Spectrasonics Keyscape Collector Keyboards is a keyboardist's dream. Deploy its magic on your next project.
Related Videos: Keyscape Collector Keyboards (Boxed)
Keyscape's Custom Controls let you tweak to perfection
In addition to the hundreds of included patches, Keyscape offers the amazing versatility of being able to dramatically shape and morph these iconic sounds — something we Sweetwater sound tweakers appreciate. Every patch in Keyscape includes Custom Controls that let you customize the sound to your heart's content. Keyscape's user-friendly interface gives you truly useful performance controls and top-shelf effects processing crafted expressly for each patch.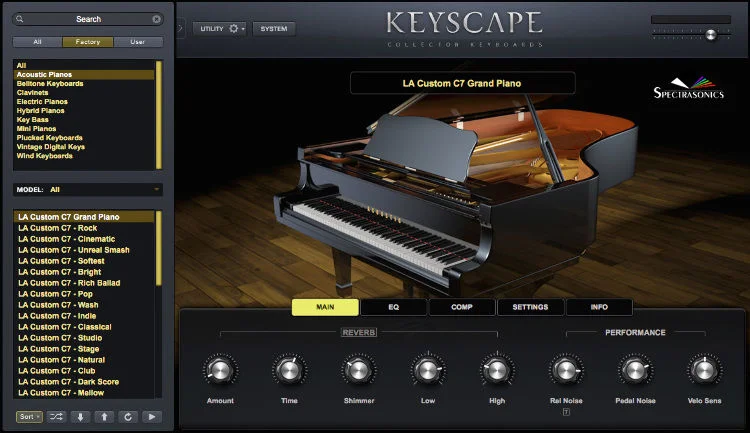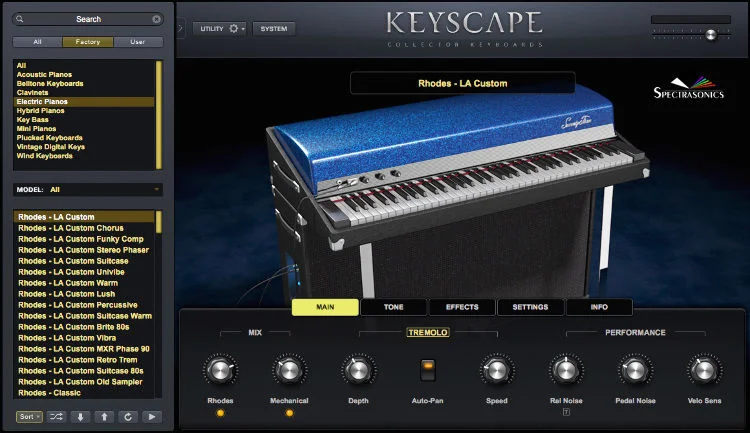 Modeling the imperfections for authenticity
For many of these collector instruments, it's their imperfections that make them so iconic. So wisely, Keyscape didn't clean up the quirky noises that are a vital ingredient of these classic instruments' unique vibe; they made sure to capture them accurately. What's more, Keyscape meticulously models the behavior of vintage amplifiers, classic FX units, and unique subtleties like mechanical, pedal, and release noise behaviors and release overtones to elevate these sounds to an entirely new level of authenticity and expression.
Keyboard Models included with Keyscape:
LA Custom C7 Grand Piano
Wing Upright Piano
Wing Tack Piano
Rhodes — LA Custom "E"
Rhodes — Classic Mark I
Wurlitzer 140B
Wurlitzer 200A
Yamaha CP-70
Vintage Vibe Electric Piano
Hohner Pianet M
Hohner Pianet N
Hohner Pianet T
Weltmeister Claviset
Hohner Clavinet C
Hohner Clavinet-Pianet DUO
Vintage Vibe Vibanet
Celeste
Chimeatron
Dulcitone
Clavichord
Dolceola
Electric Harpsichord
Mini Student Butterfly Piano
Rhodes 1946 Pre-Piano
Toy Piano — Classic
Toy Piano — Glock
Toy Piano — Grand
Toy Piano — Saucer Bell
Rhodes Piano Bass
Vintage Vibe Tine Bass
Weltmeister Basset I
Weltmeister Basset II
JD-800 Crystal Rhodes
MK-80 Digital Rhodes
MKS-20 Digital Piano
Harmochord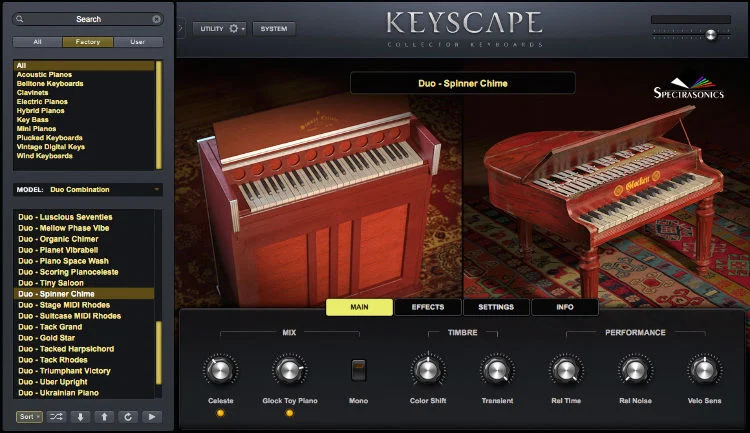 Spectrasonics Keyscape Collector Keyboards Features:
An exhaustive virtual keyboard instrument library
500+ world-class keyboard sounds
36 instrument models and hybrid "Duo Patches"
Deep multi-samples with up to 32-way velocity switching, round-robins, and more
Includes mechanical, pedal, and release noise behavior modeling
Patches feature authentically circuit-modeled amplifiers and FX
Optional 30GB Lite installation for onstage use (80GB normal installation)
Works in all major DAWs as a plug-in
Full integration with Omnisphere 2 as a satellite instrument
Boxed version ships with a credit-card-size flash drive