Finishing Move Post Human for Kontakt
Musicians, producers and sound designers might all want to consider this Kontakt collection to pad out their sound library with some great ambient textures.
If you're an art fan as well as a music fan, you'll probably know and appreciate that there are many different variations of particular colors. Posthuman, a powerful instrument/collection of patches for Kontakt 5 gives us an extensive palette of black and blues,in the form of out-of-this-world pads, textures and landscapes that can haunt and exalt your next soundtrack, score or sci-fi anthem.
Visuals for the Sound
A slick, animated GUI houses the look, as my keys cause the small white dot to move within the XY Crossfade pad, seemingly sourced by four mighty cables. The source of the sound really comes from sound designer/musician Brian Trifon, also known as Trifonic, who designed the samples and patches overall that make up the package. And what an amazing job he did.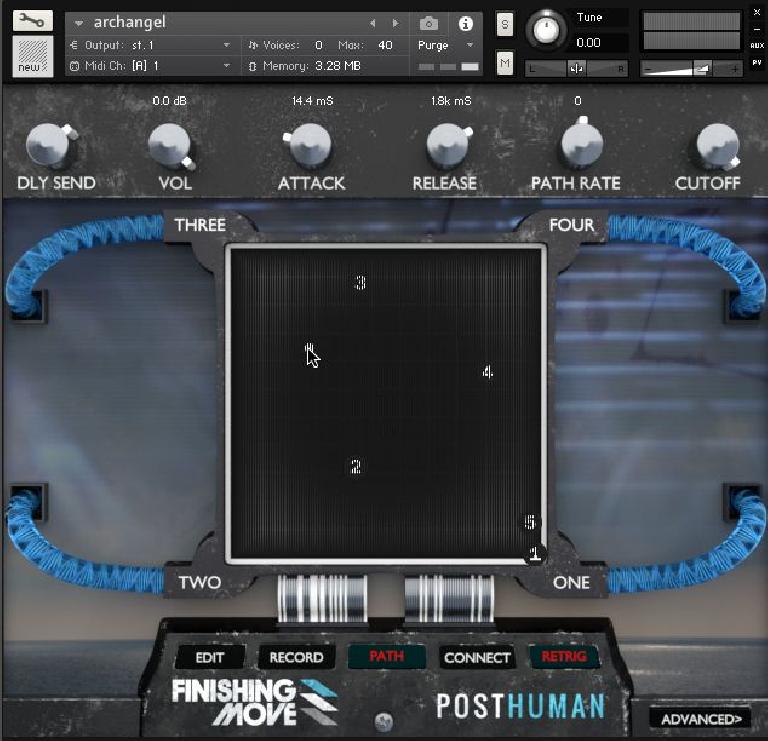 Each patch consists of four samples that run simultaneously,and rely on a X/Y pad to determine which of the four sources are more audible than the others based on the cursor position of the grid.
While this usage of the X/Y pad has been seen in other synths and sample packages, I really enjoy Brian's particular brand of sound design. Rather than the big, brash morphing leads and basses, Trifonic has instead made a healthy supply of pads, choirs and evolving textures that sound both ominous and organic.
Using a range of real world instruments like mandolins, guitars, synths and even electric toothbrushes, you never really know what you're going to get when you move to the next patch,  when you navigate the X/Y Pad or when you begin recording your own movements within the Pad, which isn't nearly as difficult as it sounds.
Big Effect
Each patch is self-modulated with pre-existing recorded paths which cause patches like Archangel to evolve with subtlety and where only minor nuances occur in the sound unless you are listening closely. Or in cases like BladeBiker, you get something more textural and ephemeral. The record button for creating paths of your own within each patch is easily within reach and simply overwrites the existing pattern.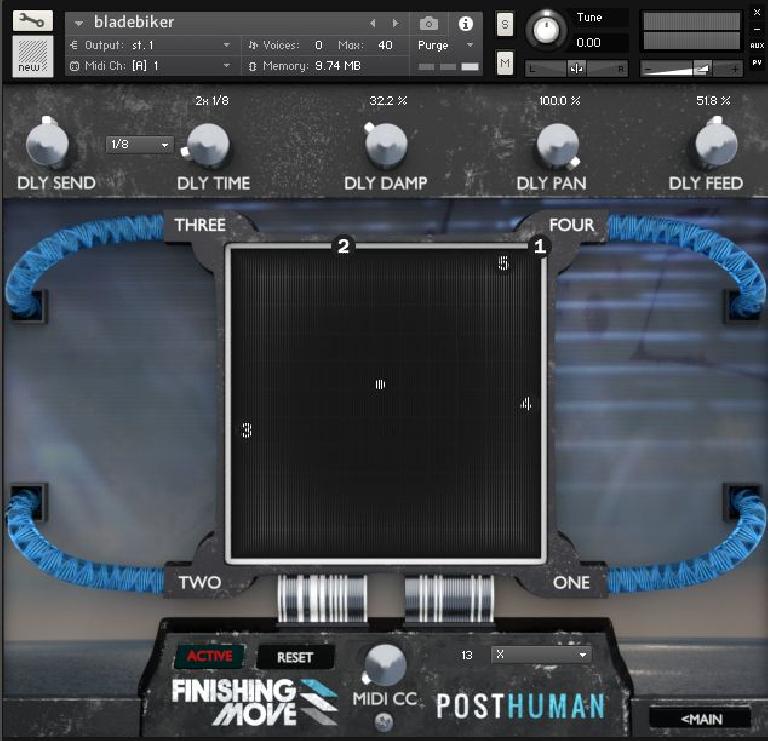 Up to five crossfade markers can exist within a recording and are laid out automatically once you've finished recording your route on the grid. To enhance, blur and mask the shifting samples, a big, syncable delay has been added in to Posthuman, and has additional programming options when the Advanced button in the lower right hand portion of Posthuman's interface has been pressed.
Where the whole package really starts to show its value however is just in the day to day usage. While the names may not totally fill you in on what each patch is, Brian has basically assembled a really nice set of bread and butter patches like brass, choirs, textures and big pads that sound very current when played against modern movies, television shows and greatly enhance any electronic music that isn't looking to be bubblegum.