Trashing Your Audio Never Sounded So Good
Discover all-new ways to mangle your drums, synths, and other sources with iZotope Trash 2 — complete with the Classic Textures and Edge expansion libraries! An essential armament of the distortion arsenals of Nine Inch Nails and Korn, this improved sonic annihilator gives you stunning amp, cabinet, and stomp box modeling, and adds 20 new distortion algorithms, a customizable multiband waveshaper, a new Convolve module with 100 impulse responses, redesigned dual filters, and tons of presets. If you want to trash your audio, you need the right tools: iZotope Trash 2 with the Classic Textures and Edge packs.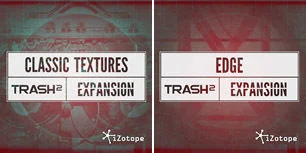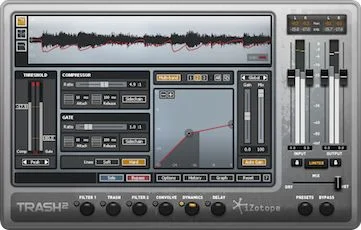 Revel in new ways to trash your tracks
iZotope Trash 2 gives you even more ways to distort your audio. If never-before-heard sounds are an important component of your sonic landscape, you'll find Trash 2's 20 new distortion algorithms to be just what the doctor ordered for transforming your instruments and vocals into something totally unique.
Roll your own distortions
You're still reading, so it's probably a safe bet that unique sounds are important to you (and why wouldn't they be?). Well, we've got some more good news. iZotope Trash 2 gives you the ability to design your own signature distortions — everything from mild to monstrous — with an all new (and totally customizable) multiband waveshaper.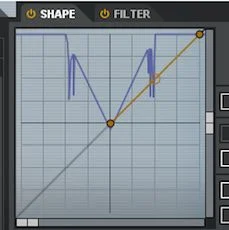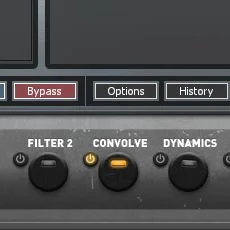 New Convolve module lets your tracks inhabit any space
Trash 2 lets you choose from over 100 impulse responses (or load your own); letting you put your tracks into any acoustical space you can conjure. Place your snare in tunnel — or your bass in a meat locker. Make your audio growl. Trash 2's redesigned dual Filters include new vowel formant filters, howling peaks, node modulation, and more. iZotope has also fitted Trash 2 with an extensive preset library and an awesome limiter that lets you experiment without fear. Trash your audio with the plug-in that was designed for that very purpose: Trash 2.
iZotope Trash 2 Distortion Processing Plug-In Features:
The preeminent audio annihilation toolkit
Includes the Classic Textures and Edge expansion packs
20 new distortion algorithms
Customizable multiband waveshaper
New Convolve module with 100 impulse responses
Redesigned dual Filters
Tons of presets