FabFilter's Killer Soft Synth Gets an Upgrade
FabFilter Twin 3 isn't a mere polyphonic synthesizer plug-in; it's your one-way ticket to modulation nirvana. Twin 3 brims with powerful features, including four ultra-flexible oscillators, four filters, six FX modules, and effortless drag-and-drop routing, plus a vast modulation system with a multitude of source signal generators and limitless modulation assignments. This comprehensively redesigned 64-voice soft synth vaunts an easier workflow than its predecessor, with a simplified interface, a new design of modulation sources, and a floating slot panel and FX panels. Moreover, Twin 3's oscillator and filter sound quality has received a significant sonic upgrade, along with built-in analog-modeled drift. Of course, you also get FabFilter's acclaimed fine-tuned knobs and controllers, interactive MIDI Learn, an undo/redo and A/B switch, Smart Parameter Interpolation, sample-accurate automation, interactive help hints, NEON and SSE optimization, and a whole lot more. If you're a red-blooded synth fanatic, FabFilter Twin 3 makes for a must-have addition to your virtual instrument arsenal.
Overhauled oscillators and filters
Oscillators are at the heart of a synthesizer, and FabFilter Twin 3 flaunts four of them, which is one more than its predecessor's three. These oscillators boast analog-modeled drift for subtle random pitch and phase fluctuation, pulse width modulation, hard sync, and phase sync. Simply put, they sound like the real analog deal. You also get double the polyphony of Twin 3's predecessor, with a maximum of 64 voices, and a per-oscillator polyphony mode, which steps through the oscillators with each incoming note. Twin 3's filters have been doubled from two to four, plus they've been enhanced with vintage-style bell, shelf, and notch types for ear-grabbing non-linear distortion. You also get a 6dB/octave slope option and modulatable Cutoff/Peak Offset knobs for even more sonic possibilities. When you take all these outstanding improvements into account, Twin 3's 4x oversampling mode is merely icing on the cake.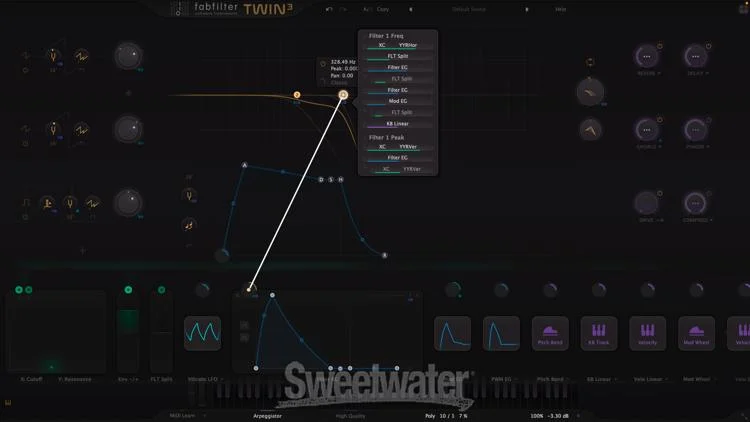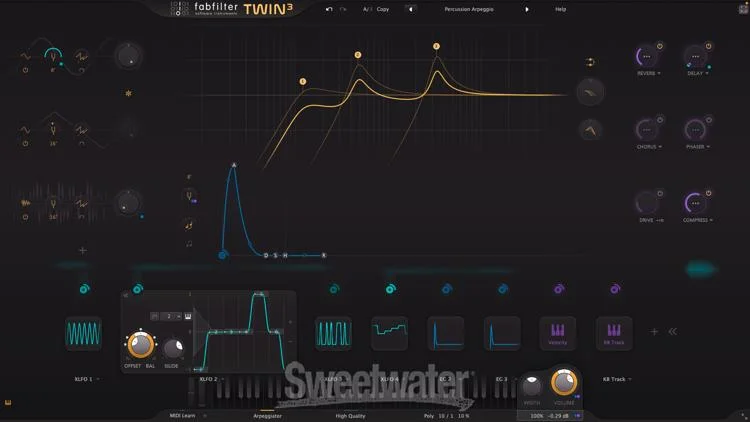 Jam-packed FX section and arpeggiator
Twin 3's massive FX section includes six colorful processing modules for transforming and refining your sounds. Compressor and drive effects provide dynamics control and saturation, while reverb and delay create space and rhythmic echoes. You also get ear-opening chorus and phaser effects for thickening and widening your signal. On top of that, every one of Twin 3's FX parameters can be deployed as a modulation target, enabling you to process them via the plug-in's envelope generators and followers, XLFOs, X/Y controllers, sliders, and MIDI sources. You'll also appreciate Twin 3's creatively inspiring arpeggiator, which includes host sync, Groove/Legato and Rate Offset controls, and a slew of note value and order options.
Simplified interface and a lightning-fast workflow
Twin 3 features a completely redesigned interface and workflow. Here at Sweetwater, we've found this plug-in to be more immediately accessible, more visually informative, and faster to navigate than its forerunner, thanks to its powerful scaling options and a full-screen mode that takes its synth programming environment to exciting new heights. You can add and remove oscillators and filters on a whim, and every aspect of the filters is accessed and adjusted within an easy-to-use EQ-style display. With Twin 3, you can easily visualize everything you hear, courtesy of responsive per-oscillator oscilloscopes, a vivid spectrogram, and a complete visualization of the modulation signals throughout your signal path. Beyond that, Twin 3's floating slot panels group active modulation sources at each target control for collective tweaking. You'll also appreciate the plug-in's darker color scheme, which is less tiring on your eyes.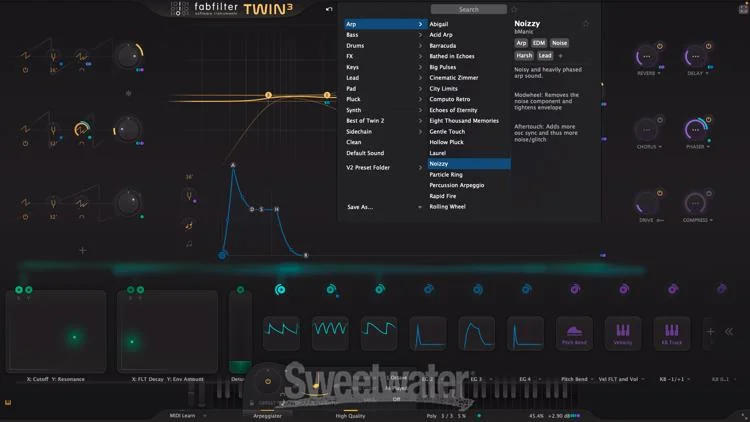 FabFilter Twin 3 Synthesizer Plug-in Features:
4 oscillators with pulse width modulation, hard sync, and phase sync
Oscillators boast analog-modeled drift for subtle random pitch and phase fluctuation
64 voices of polyphony with a per-oscillator polyphony mode that steps through the oscillators with each incoming note
4 filters with vintage-style bell, shelf, and notch types for ear-grabbing non-linear distortion
6dB/octave slope option and modulatable Cutoff/Peak Offset knobs offer even more sonic possibilities
4x oversampling mode ensures optimal sound
FX section includes 6 colorful processing modules for transforming and refining your sounds
Compressor and drive effects provide dynamics control and saturation
Reverb and delay create space and rhythmic echoes
Chorus and phaser effects thicken and widen your signal
All FX parameters can be processed via envelope generators and followers, XLFOs, X/Y controllers, sliders, and MIDI sources
Arpeggiator includes host sync, Groove/Legato and Rate Offset controls, and a slew of note value and order options
Effortless drag-and-drop modulation routing with a multitude of source signal generators and limitless modulation assignments
Redesigned interface and workflow with scaling options and full-screen mode
Allows you to add and remove oscillators and filters on a whim
Every aspect of the filters is accessed and adjusted within an easy-to-use EQ-style display
Per-oscillator oscilloscopes, spectrogram, and modulation visualization let you see everything you hear
Floating slot panels group active modulation sources at each target control for collective tweaking
Fine-tuned knobs and controllers, interactive MIDI learn, and an undo/redo and A/B switch
Smart Parameter Interpolation, sample-accurate automation, interactive help hints, and NEON and SSE optimization