The Entire Lot of Baby Audio's World-class Plug-ins
Baby Audio knows a thing or two about making your mixes sound bigger, better, and more dynamic than ever before. Now you can purchase all of Baby Audio's stellar plug-ins in one fell swoop — and at an incredible price! This bundle comes stock with seven unique plug-ins, covering everything from delay and reverb effects (Spaced Out) to lo-fi sounds (Super VHS) and even heavy-duty compression and saturation (Parallel Aggressor), plus so much more. Inject your recordings with a studio-quality shine — and save some money while doing it — courtesy of the Baby Audio All Plug-ins Bundle!
Spaced Out: out-of-this-world echoes for the 21st century
Brimming with a galaxy of outer space-style echoes, Spaced Out is your one-stop shop for wet effects. This powerful plug-in boasts a 16-step delay sequencer, a crystalline reverb engine, and a cache of modulation options that are certain to unlock endless hours of creative experimentation. Spaced Out features a substantial yet highly intuitive control set for manipulating your tracks. You'll also appreciate this plug-in's Generate function, which creates mind-bending sonic textures at random. If you're searching for a multifunction effect that's guaranteed to facilitate fresh ideas, you'll have fun getting lost in Spaced Out — it's essentially what a classic '80s-era analog tape delay and reverb unit would be like if it were released in the here and now.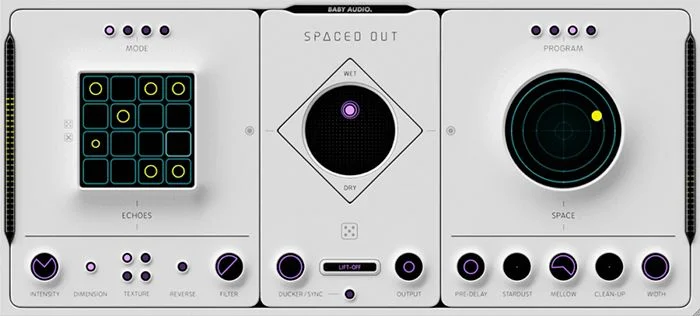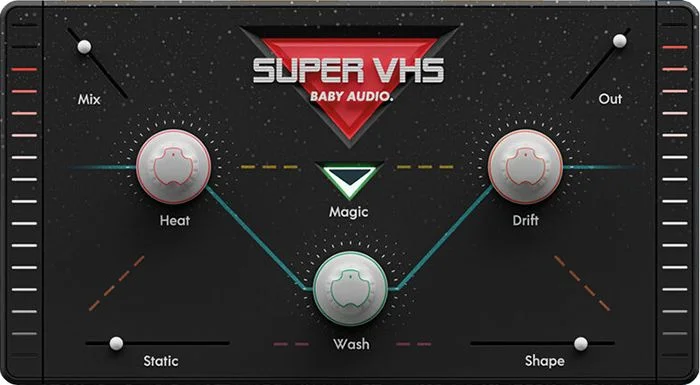 Super VHS: rewind to the '80s with this VHS-inspired, lo-fi sonic manipulator
Wrap your tracks in a blanket of 1980s nostalgia with the Super VHS lo-fi plug-in. Based on the satisfyingly degraded sound of abused tapes checked out from long-defunct video rental stores, the Super VHS provides a fun and intuitive way to add warble, warmth, and grit to any sound source. Six tasty 1-knob, vintage-inspired effects are on deck, including a super crispy saturator, a grainy reverb, a pitch drift LFO, a sample reducer, and a chorus so wide it needs letterboxing! Producers and sound designers at Sweetwater tap into the Super VHS's 6-pack of sonic manipulators to crunch up drums, animate virtual instruments, and unleash general-purpose weirdifying. With its knob or slider per function interface, the Super VHS invites unstructured tweaking — but feel free to snap off the figurative write-protection tabs by saving your favorite custom presets. Be kind: rewind to the '80s with the Baby Audio Super VHS plug-in!
Comeback Kid: a flexible delay with retro character
From dog-eared digital repeats to warbly reel-to-reel simulations, the Baby Audio Comeback Kid delay plug-in has the tone and temperament to make your tracks spring to life with vintage character. Two things immediately likeable about the Comeback Kid are its retro look and streamlined layout; there are no submenus to dive into in order to access and edit sounds — just pick a preset, flip some switches, and spin a few knobs. More than a dozen flavor enhancers in the Comeback Kid give your source audio the edge for modern and lo-fi productions. For example, you can galvanize repeats with analog-modeled tape saturation and pitch modulation or simply crush them up using the 11-bit Cheap switch. Onboard delay ducking and repeat-specific transient designers make it easy to come up with non-masking delay parts entirely within the plug-in. Of course, the DAW sync feature takes the Comeback Kid plug-in to another level. Here you can dial in subdivisions to create rhythm-perfect repeats, or simply engage manual mode and move controls to your heart's content. A wide range of repeat times (0.1ms–2500ms) make the Baby Audio Comeback Kid delay plug-in far more flexible than the typical delay.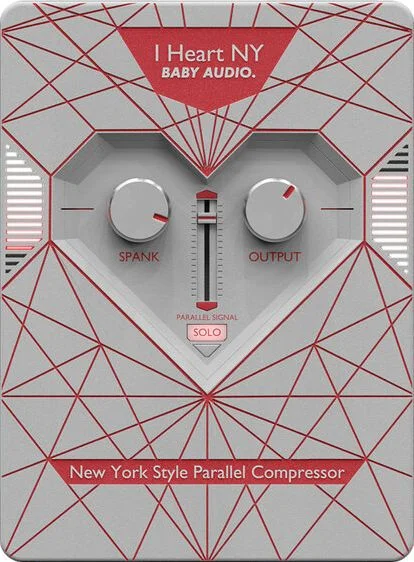 I Heart NY: epic New York-style compression in a single plug-in
Meet your new go-to plug-in for epic drum mixes: the Baby Audio I Heart NY parallel compressor plug-in. New York-style compression involves more than basic parallel compression (blending a highly compressed signal in with the dry signal), and the I Heart NY plug-in performs a combination of heavy compression, EQ, and "a bunch of non-linear magic" that's easy to dial in. Beyond fat and punchy drum mixes, this style of compression can be a handy tool for guitars and other mix buses. And because you can also use it as a normal insert compressor with a click of the Solo button, the Baby Audio I Heart NY plug-in is poised to become your favorite — and most-used — compressor.
Parallel Aggressor: powerful parallel processing for larger-than-life mixes
At some point during your production endeavors, you've likely been left with tracks that didn't quite sound big enough. This usually leads to a less-than-stellar mix that is deprived of the full-bodied sound of a genuine studio-grade song. Baby Audio's Parallel Aggressor Compression and Saturation Plug-in is here to fix those subpar mixes, with enough power to process multiple copies of tracks and blend them into a natural-sounding final product with plenty of punch. This simple-to-use plug-in's sonic magic starts by splitting your signal into three different versions: Dry, Spank, and Heat. The Dry version is just that: your unaffected original signal. The Spank and Heat versions are where things start to get interesting, producing a heavily compressed and heavily saturated duplicate of the original signal, respectively. Once you capture your audio, Parallel Aggressor gets to work on building out your sound, with an onboard mixer for balancing the three signals and knobs for the Spank and Heat signals to add the perfect amount of mojo. Sweetwater producers and sound engineers can't get enough of the massive sounds that are achievable with Parallel Aggressor — it's a fantastic tool for guitars, drums, and any audio source in need of an extra hefty push.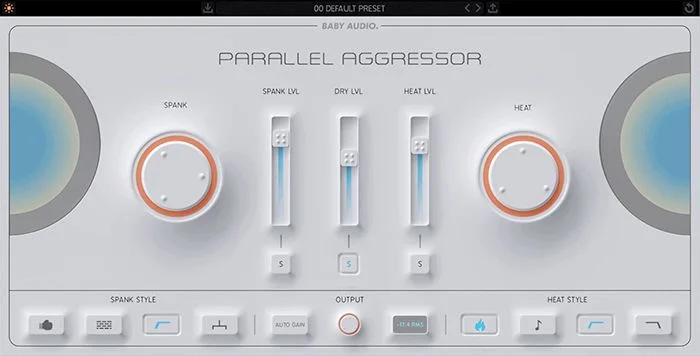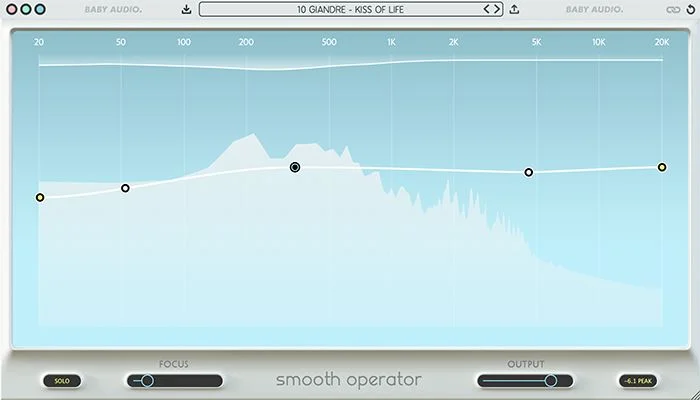 Smooth Operator: your one-stop shop for cleaner, clearer mixes
Picture this scenario. You've just worked out the final parts for your newest masterpiece and have meticulously tracked every instrument to perfection. You're ready to hear your creation, but as soon as you press play, something sounds off. Signal balances everywhere seem to be out of whack, causing a less-than-stellar final product that's lacking in both clarity and presence. With Baby Audio's Smooth Operator Intelligent Spectral Balancer Plug-in, balance issues are a thing of the past. By using a suite of adaptive EQs and compressors, this ultra-powerful plug-in analyzes your signal in real time and adjusts accordingly to maintain the integrity of each instrument and vocal part you worked so hard to craft. Its simple-to-use interface consists of a horizontal frequency response curve that increases in effect as you drag it down, with individual nodes to fine-tune your frequency balance. Once you hone in on the problem areas, Smooth Operator's Focus slider allows you to adjust exactly how precise you'd like the effect to be.
TAIP: adds heat and glue to your tracks and buses
TAIP is like a sonic glue gun, infusing your tracks with heat and cohesion. Far from another DSP-fueled digital simulation, this tape emulation plug-in employs a cutting-edge AI-powered algorithm that faithfully models the idiosyncratic behavior of analog tape. What's more, you get a bevy of powerful features to accommodate a modern, DAW-centric workflow. Whether you want subtle warmth or full-on distortion, TAIP supplies you with ear-grabbing, analog-style coloration for your drums, instruments, vocals, buses, and even full mixes, without the need to route your signals outside the box.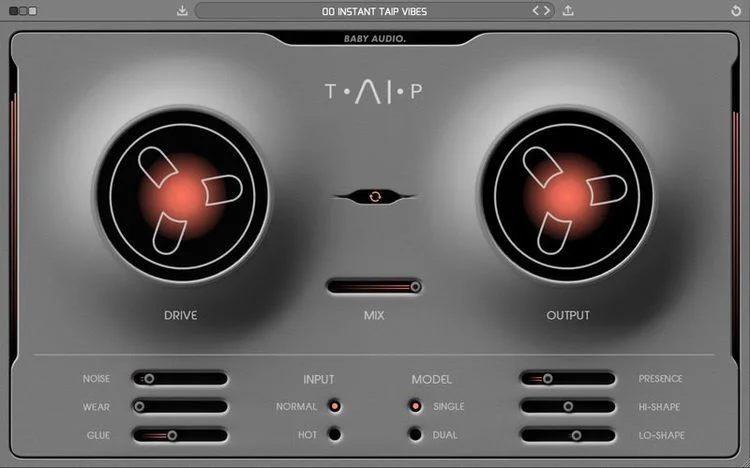 Crystalline: flexible, modern-sounding algorithmic Reverb
Baby Audio's Crystalline plug-in packs six decades of algorithmic reverb research and design into easy-to-use software for your favorite DAW. Reflections includes Size, Sparkle, and Width controls, letting you experiment with room size, brightness, and stereo image width, respectively. Sweetwater's studio experts appreciate Crystalline's Clean-up section, with Damping to remove unwanted frequencies, a highpass filter in the form of Sides, and Gate to engage an '80s-inspired gated reverb. Depth gives your sound some extra character, with Resolution toggling between "basic" and "complex" algorithms, Modulation adding pitch variations for a bigger sound, and Shimmer slowing the high frequencies in the reverb tails for an "angelic" effect. Rounding out the sections is Shape, which focuses more on EQ with a Tone control that shifts between brighter and darker sounds; Smoothing, which applies EQ curves to common problem areas; and Transients, which shifts the emphasis to either the attack or sustain.
Baby Audio All Plug-ins Bundle Features:
Suite of all of Baby Audio's top-notch plug-ins
Includes Spaced Out (reverb/delay), Super VHS (lo-fi), Comeback Kid (delay), I Heart NY (parallel compressor), Parallel Aggressor (compressor/saturator), Smooth Operator (spectral balancer), TAIP (tape emulation), and Crystalline (modern algorithmic reverb)